Some exciting news today! I am thrilled to announce that I have been selected as a winner of a 2013 Two Bright Lights Editors Choice Award!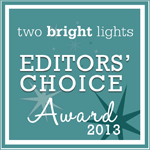 The award is given in recognition of the those whose number of published features in 2012 placed them among the top 5% of all Two Bright Lights members. Winners were published across many of the most respected lifestyle, wedding and other print and digital publications in the United States and worldwide.
I am honored to be part of this group of talented photographers and creative professionals. Thanks you for the beautiful work you do. It has made these features possible! To name a few:
The team at Disney Fairy Tale Weddings
Bruno Duarte of Ralph Brennan's Jazz Kitchen
Tara Fontana (and crew) of Fairytale Hair and Makeup
Melissa, Kelly and the team from Disney Floral and Decor
Martin Felipe of Waveform Events
Jenna and Brittany of Rock Me Up
Reverend Carolyn Alexander and Pastor Norman
Alan Katz of Great Officiants
Liz Coopersmith of Silver Charm Events
Erika of Erika's Elegance
Sandy of Candy by Sandee
And of course, thank you to the blogs that have taken the time to feature our work:
Disney Fairy Tale Wedding Blog
Urban Style, The Bridal Network
And thank you to Two Bright Lights for everything you do. You make connecting with publishers seamless and easy.
~Jenna